The Statistics Are Staggering!
Each year 10 million post-menopausal American women are diagnosed with osteoporosis. Half of all post-menopausal women have an osteoporosis-related bone fracture during their lives. With millions of baby-boomer women going through peri-menopausal or post-menopausal, those statistics are expected to increase significantly. To preempt this bone loss, some post-menopausal women are prescribed hormone replacement, most are encouraged to consume a diet rich in micro-nutrients, and exercise regularly. However, 70% of the variability in bone mass in humans is associated with multiple genes across different biological systems.

This presentation will highlight how genotype impacts risk for osteopenia/osteoporosis by identifying polygenic single nucleotide polymorphisms (SNPs) associated with reduced bone mass, how nutrigenomic interventions can mitigate their effects, and how assessing specific biomarkers can lead to better health outcomes for this at-risk population.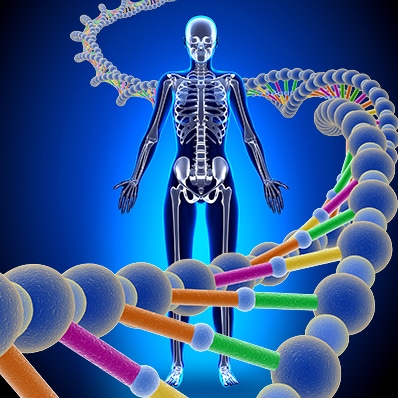 No Bones About it: Novel Strategies to Prevent and Treat Osteopenia and Osteoporosis Using Genomics
Speaker: Susan Allen-Evenson, RDN, LDN, CCN
Pre-Recorded - May 16, 2017
FREE RECORDING ACCESS

Susan Allen RD, CCN - Susan Allen is recognized as an expert in the nutritional aspects of Integrative and Functional Medicine. In addition to her own private practice, over the past 25 years, she has consulted for several notable Integrative Medicine Centers and the nutriceutical industry.
With her passion for educating, Ms. Allen lectures nation-wide, has appeared on numerous radio and television programs, has been quoted extensively in the press, and is also a published author. Additionally, she's held appointments on many professional boards.
Having recognized the significant divide between traditional training in health care and the emerging trends in Integrative and Functional Medicine and understanding many professionals are missing a key opportunity; Ms. Allen launched a successful national mentoring initiative for clinicians emphasizing nutrition in their practice. Her company, Next Level Functional Nutrition provides practitioners a step into the 21st century of nutrition intervention; where the cutting edge of science, nutrition, and medicine meet.